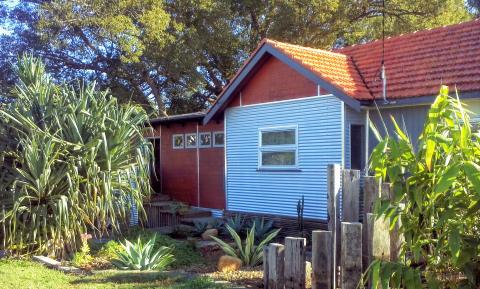 I am excited to share our house and garden with you – well, at least in my next couple of posts. We have been living in the same house for the past 12 years and after many small and large projects we have managed to create a family home which we love.
So, please come in.
Each project has been designed and managed by Brett, the creative force behind Design2B. Brett not only came up with ideas but was also able to complete all projects himself thanks to his resourcefulness, creativity and previous hands-on experience as a carpenter.
The thing is, our house and the outdoor space are constantly altering and evolving with the changing needs of our growing family. There are always new ideas and plans for improvement whilst completing other home or garden projects – it's like a wonderful story which never ends.  And we love it that way! We both like to be creative and our garden and house are our endless source of inspiration.
Now, as our kids grow, they too can be a part of this story as they help their parents and learn new skills. I love seeing our 7 year old son, sketching and "designing" his cubby house and constantly discussing his ideas with Brett. He says he wants to be a designer just like his Dad. How sweet!  
When we bought the house back in 2004, we didn't really care that it was super small with a pretty old kitchen and bathroom. We had no kids, had just got married and all we wanted was a place with a big garden, lots of trees and a swimming pool.  This house offered not just these elements but also a great location, right next to the park and within walking distance to public transport and local school.
So we bought a house and couldn't even remember how many bedrooms it had!!  The excitement of owning a big space with endless possibilities took over.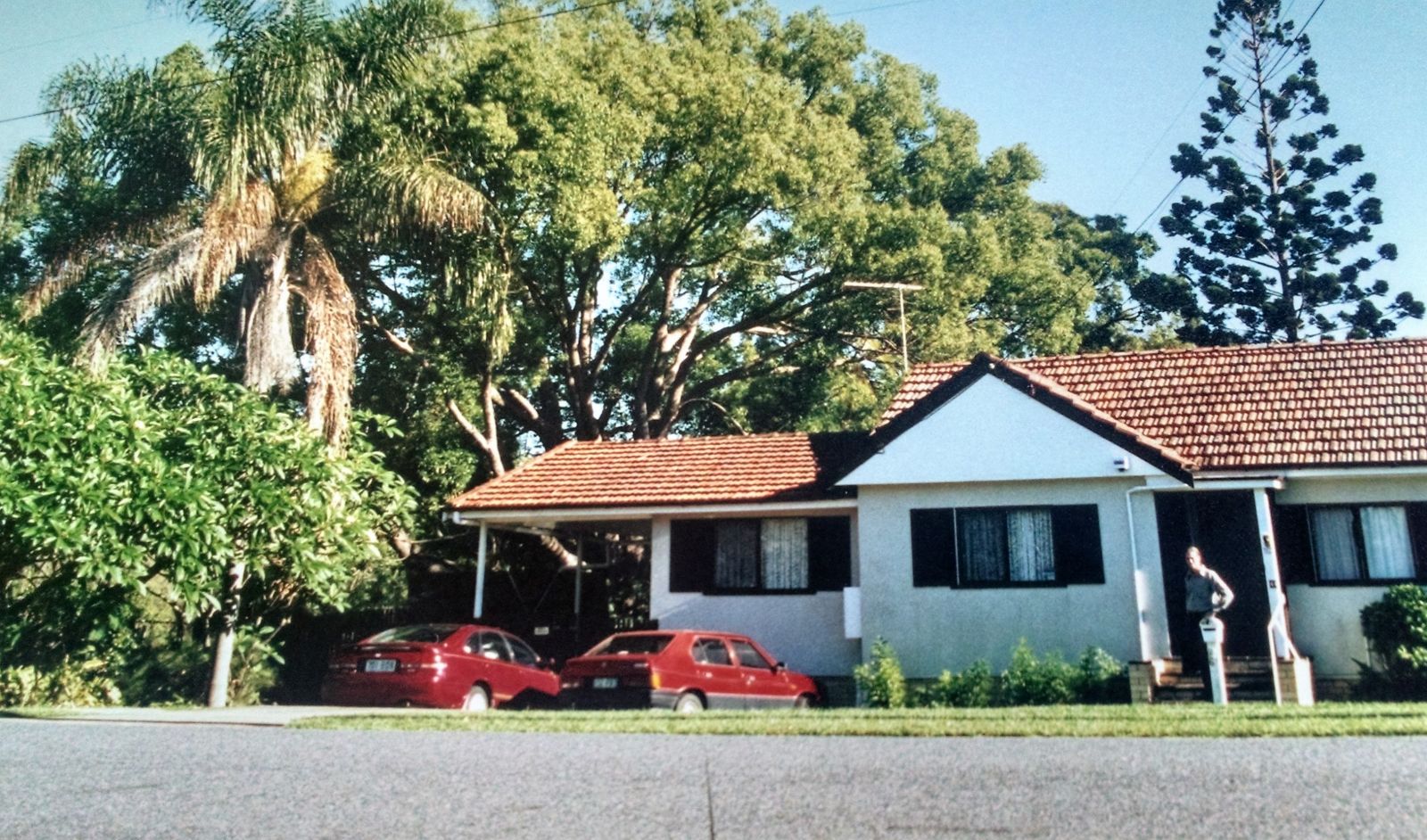 The house when we bought in 2004. We were most impressed with the size of trees in our garden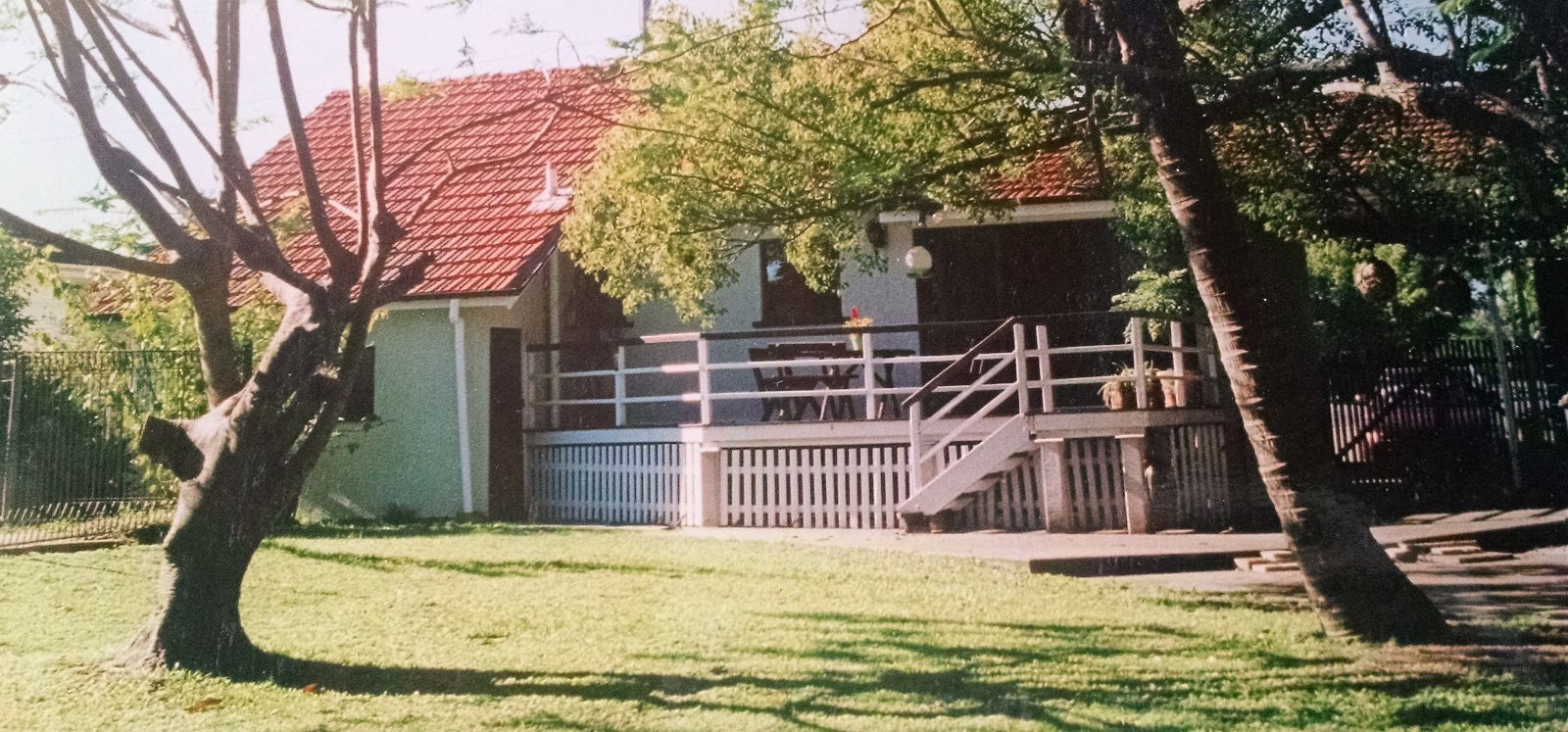 Teeny-weeny deck was big enough for two people.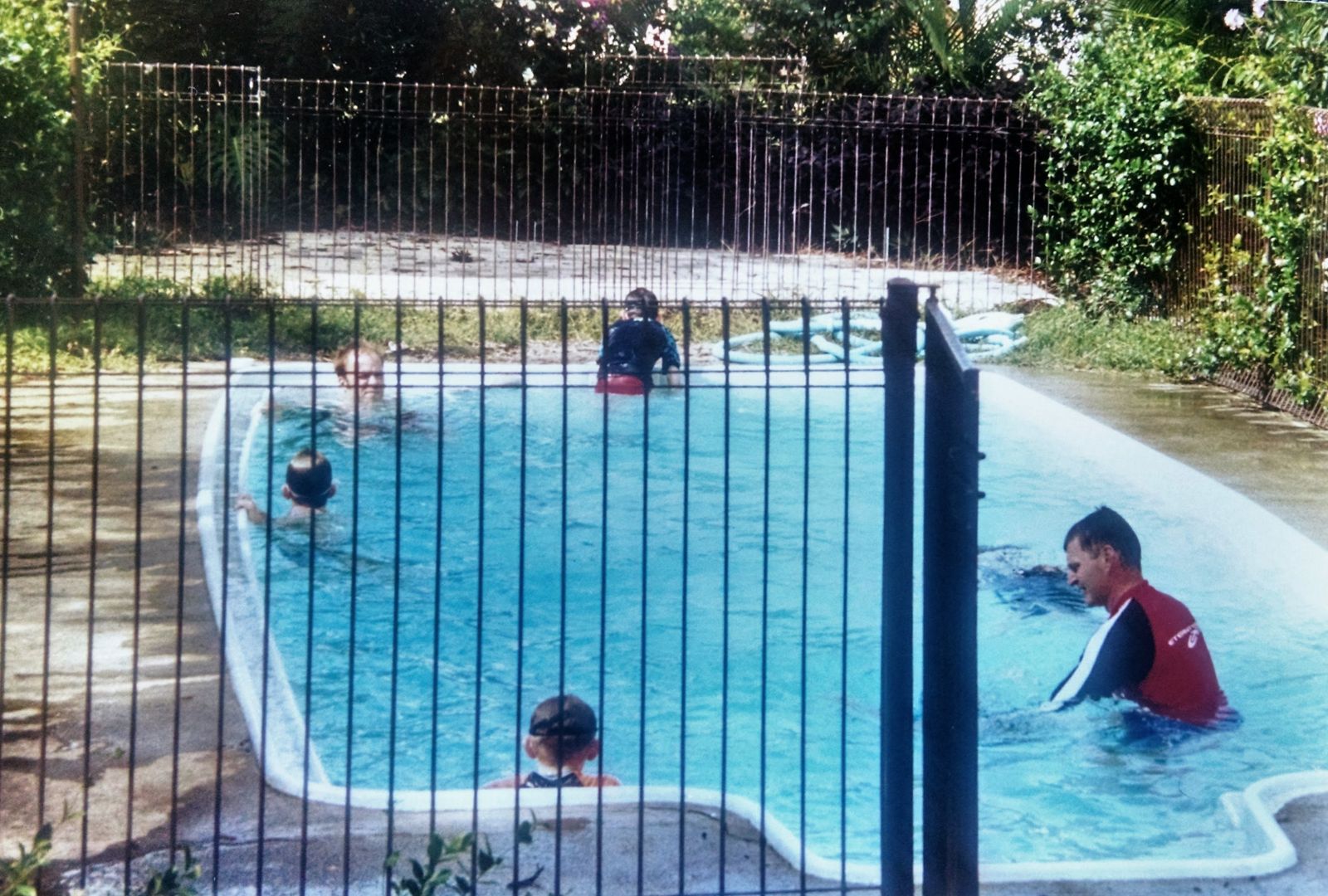 The swimming pool was very basic with a rather ugly fence and concrete all around it. There wasn't much room between the fence and the pool - even to put a chair next to the pool.
As Brett and I both love outdoors and nature, we started working on our garden first.  You cannot do gardening without a proper shed where you can store all your tools.  So, Brett had a clever idea of combining 'practical with aesthetic' and decided to build the shed right behind the swimming pool - turning one of the walls into a water feature with a small pond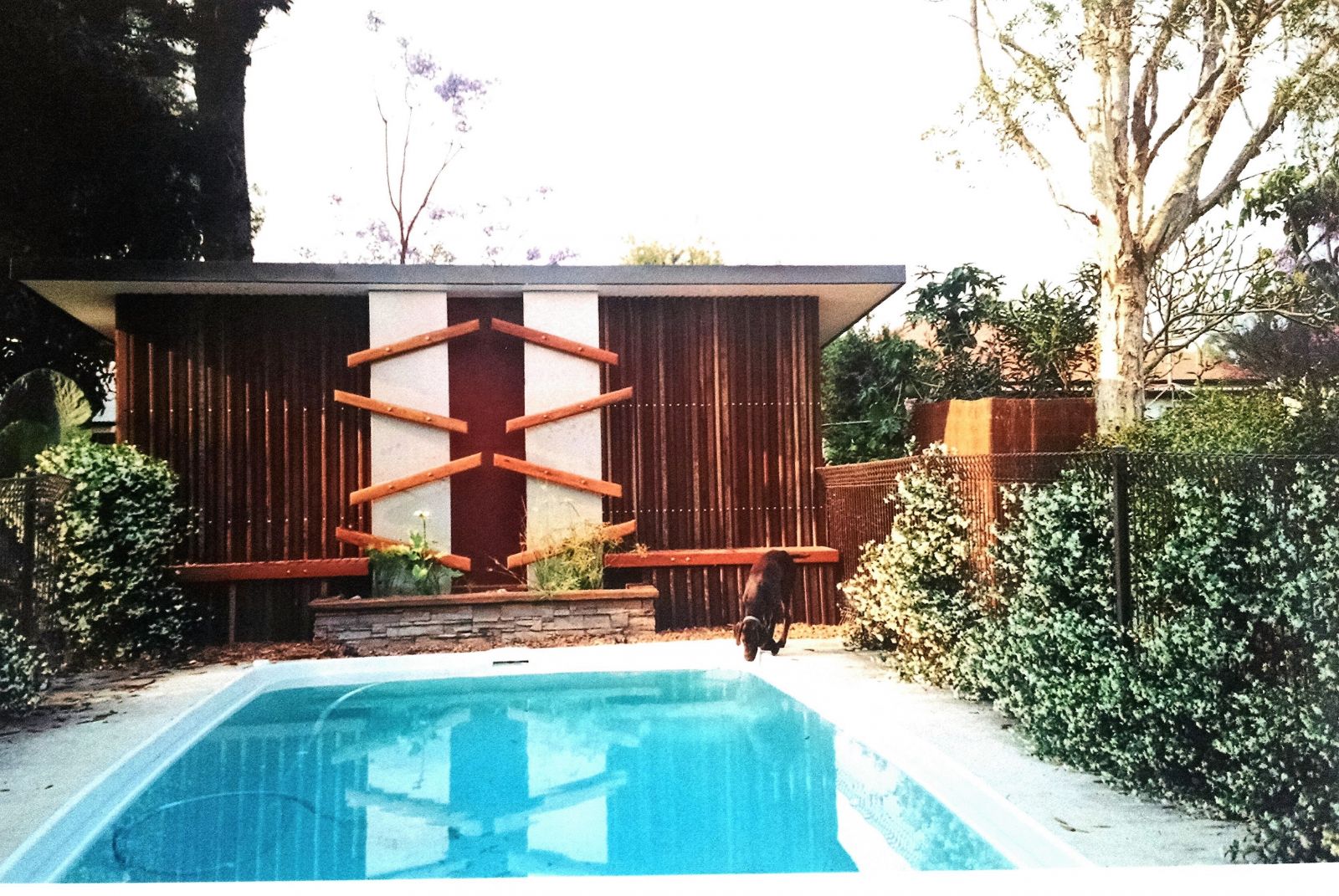 Here is the shed which Brett built behind the swimming pool (2006)
We added wooded battens to the walls of the shed for a natural look and sleek stainless steel panels for textural contrast. During the building process, we also planted 'star jasmine' around the pool fence.  It's a very effective and cheap option for creating a bit of privacy and to cover the "ugly" fence – I bought jasmine in tubes for 70c each!  It grows super-fast and the smell is divine.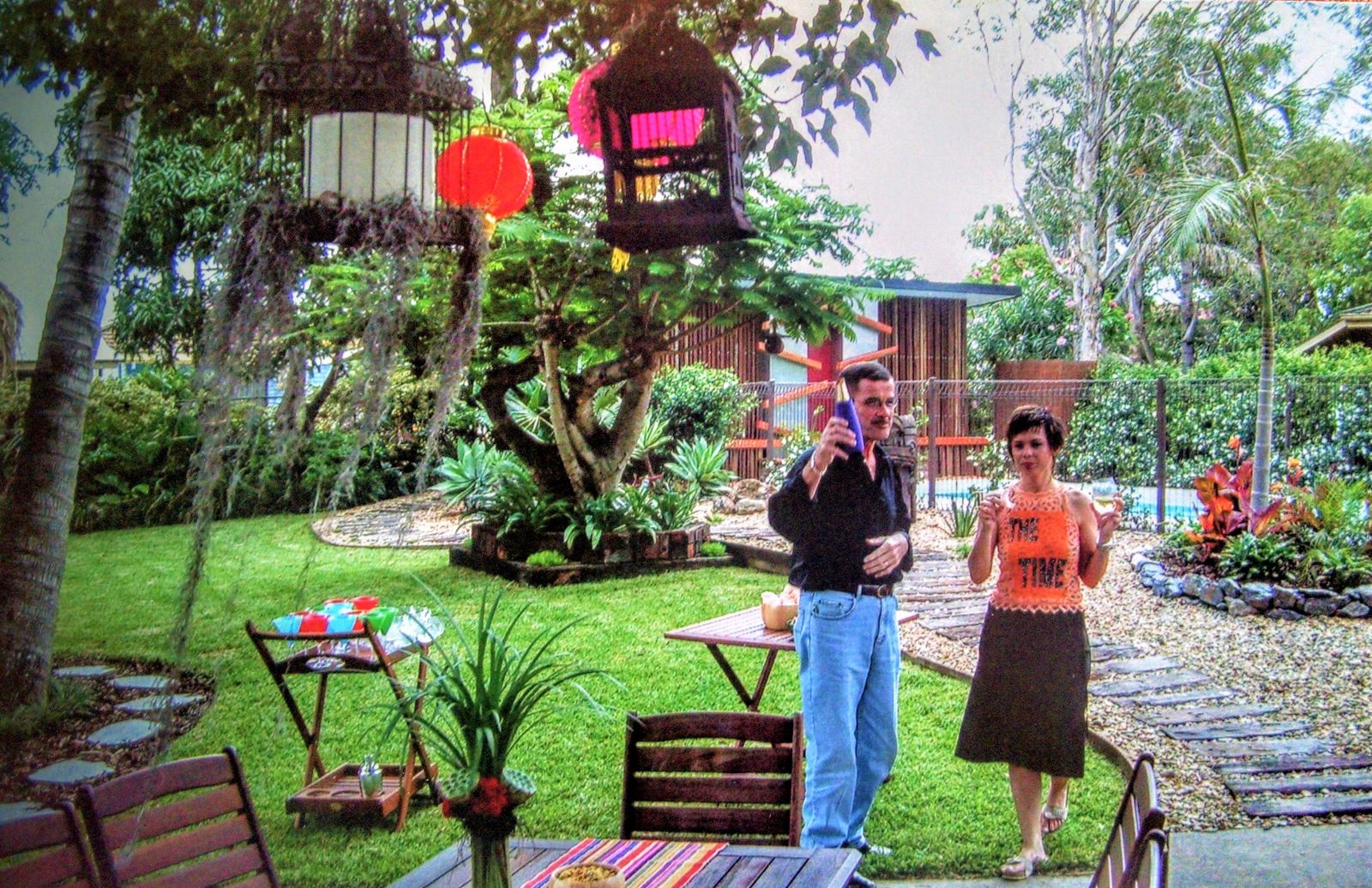 The original garden had only grass, large trees and a fence. We added interest and lushness by creating feature garden beds and curved paths made with recycled railway sleepers and rocks. Oh, and few bird cages to add a personnal touch.
As I said previously, many things around the house and in the garden transformed over time with our family. Before kids, the pool was all about privacy and beautiful jasmine provided just that. You couldn't even see the pool from the house. But as soon as kids arrived and started the swimming lessons, we realised an urgent need to be able to see the pool. I have always loved glass fences but after couple of quotes, we realised it would be way too expensive to put it all around the pool. So we decided to put the glass fence only where it was needed and left the part of the original fence with growing jasmine as it was.  It gives the eclectic look which we love. And we saved heaps of money too!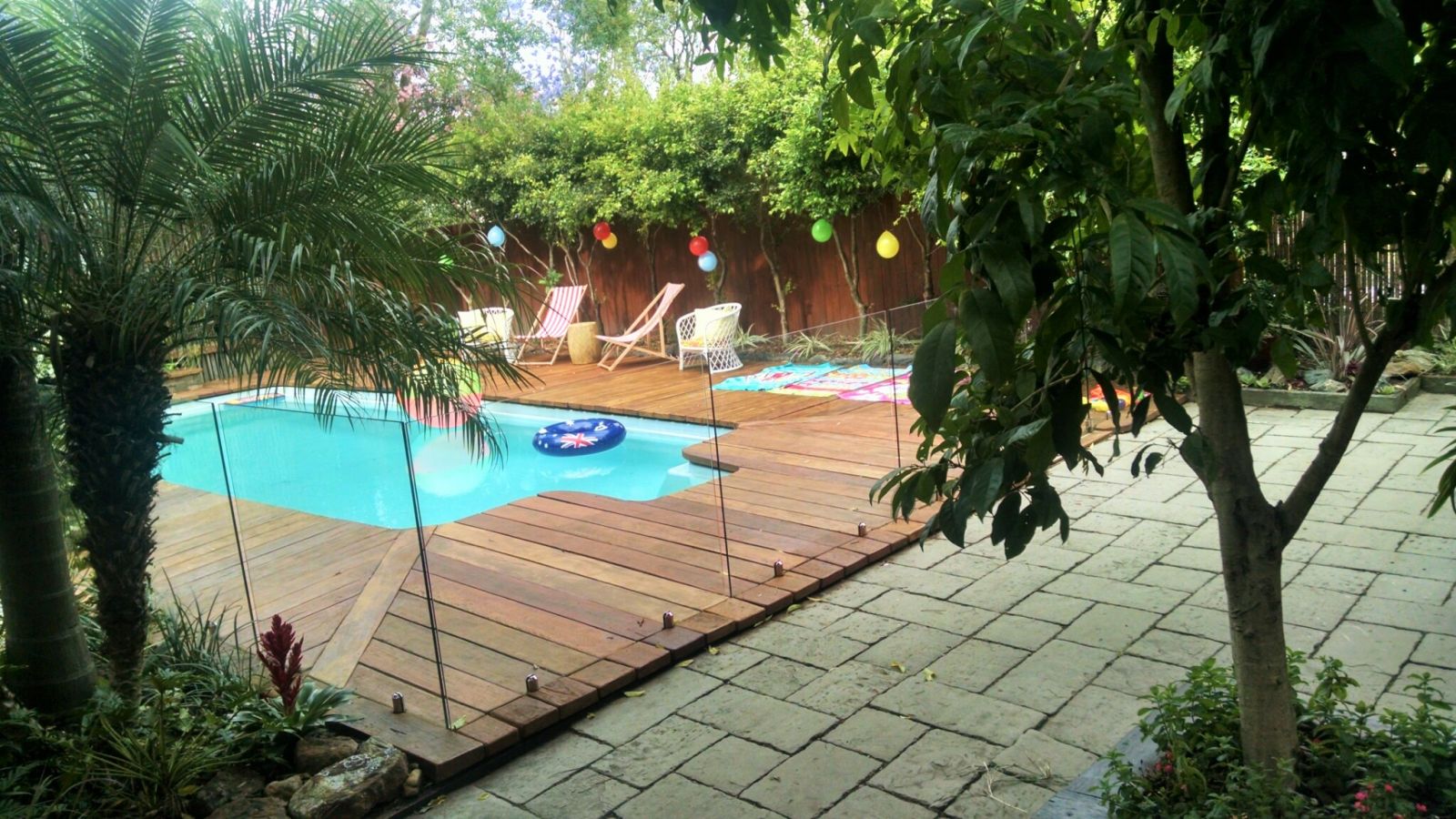 Swimming pool now. We can see the kids through the new glass fence while we sit on the deck. In the photo below you can still see some of the original fence with pretty jasmine on the left.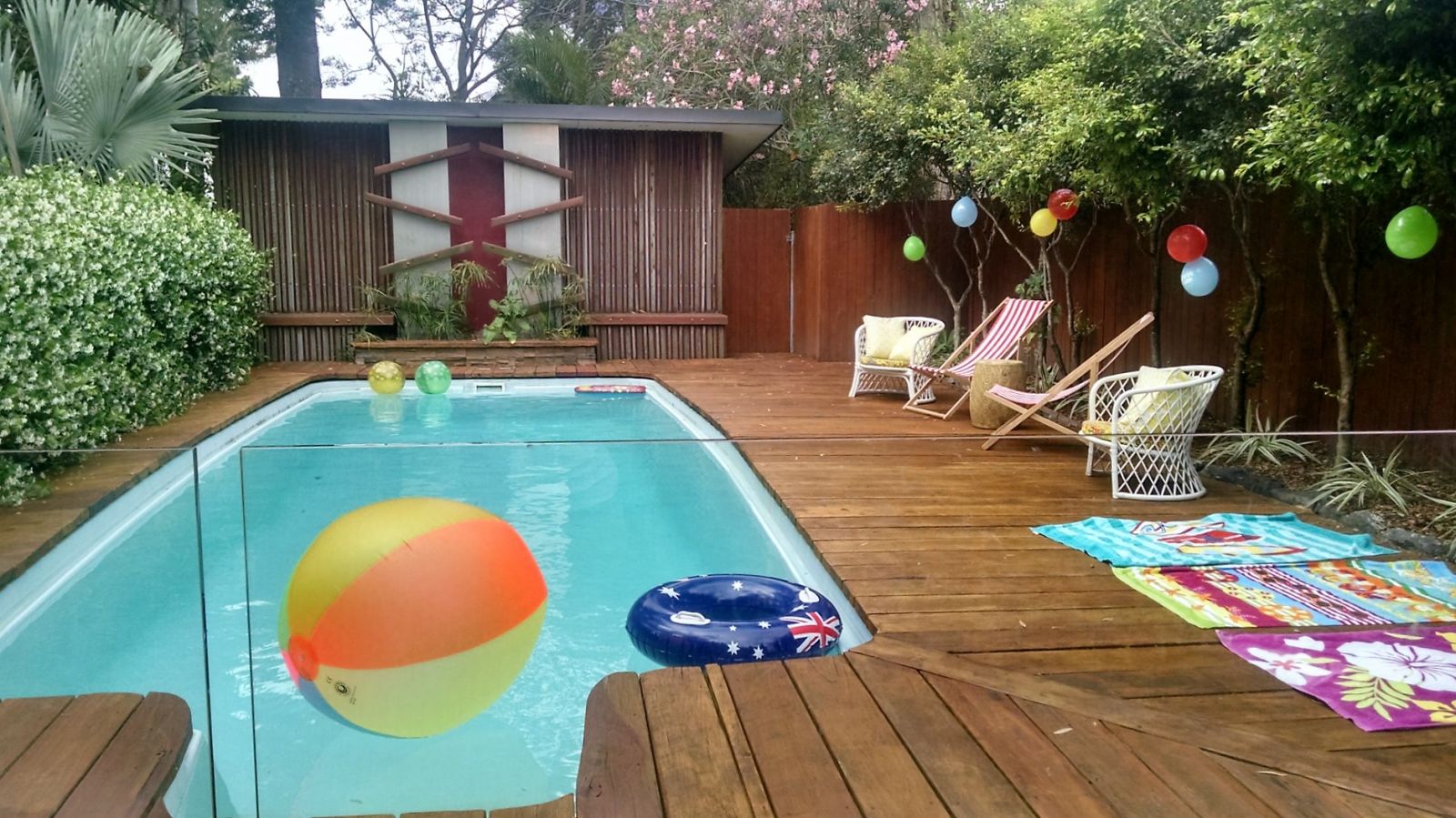 We managed to create additional space around the pool by extending fence all the way to the boundary of property and building a new deck over the old concrete floor.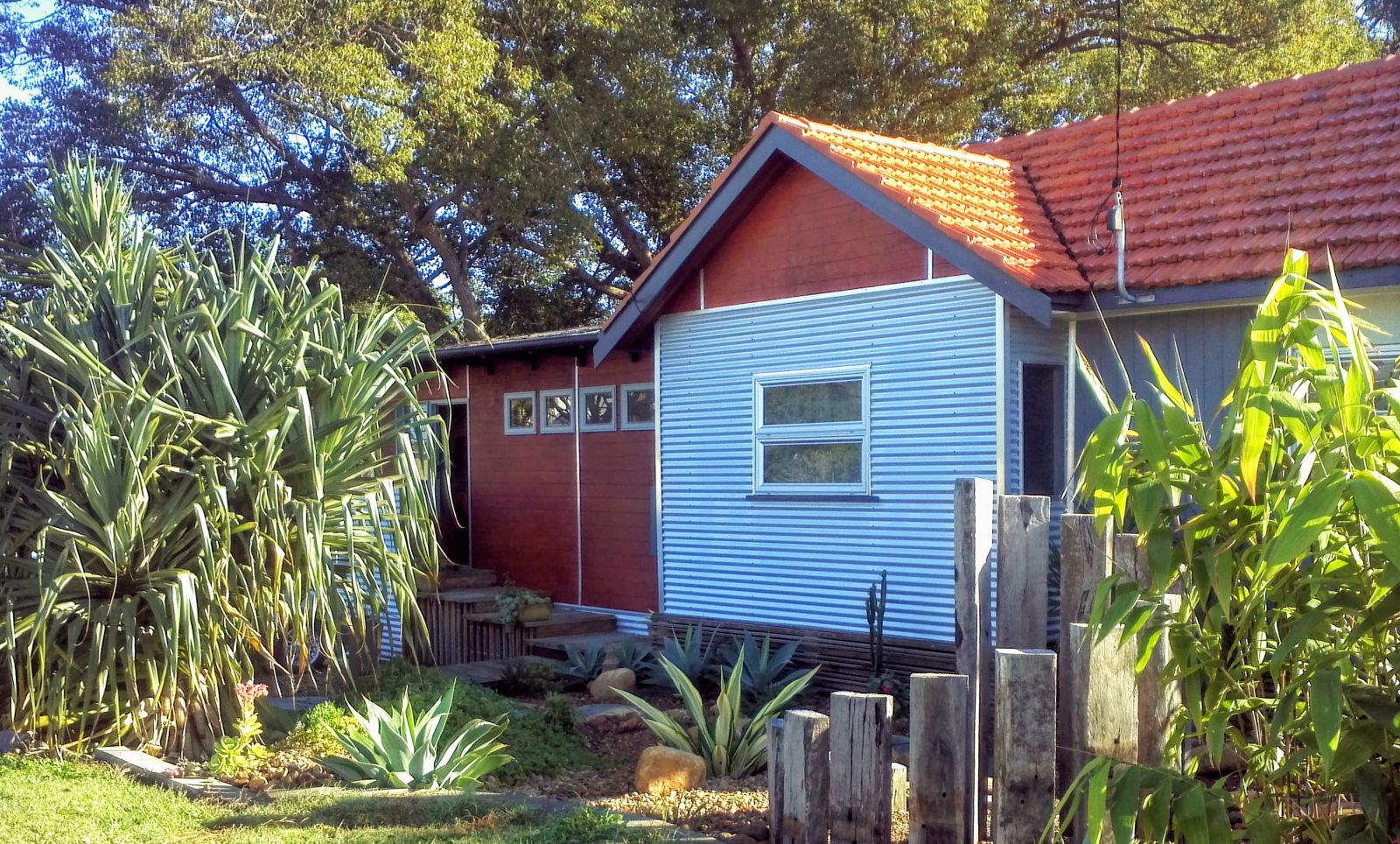 Here is the front of our house now. We will have a look inside in our next post.
So what did Brett and I learn through this initial stage?
Even though a budget doesn't allow for doing everything right away as you would like, you can start working on small projects which are achievable and not too costly.

As you work on small projects, it's important to keep in mind the overall concept so you keep working towards the same end result and avoid changing your mind constantly.

Don't be scared of exploring different options and materials. It can save you money.

Not starting on the house renovation soon after the purchase, will give you an extra time to "get to know the house" and understand the surrounding environment.
Well, we hope you enjoyed a walk around our garden and you feel inspired to begin your own project soon.  If you are unsure where or how to start give Brett a call. He can point you in the right direction and share his knowledge with you.
In our next post, we would like to invite you to come inside and have a look at our family home.