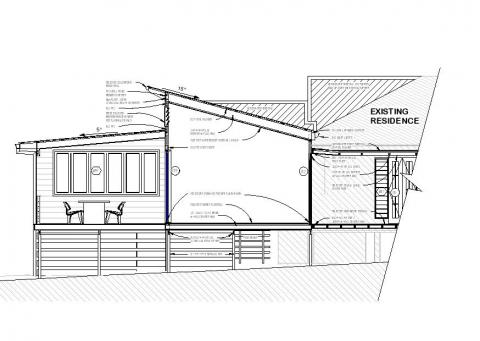 Design 2B chats …
Our articles will offer a series of interesting information, helpful insights, inspiring images and useful tips about various aspects of Design 2B.
This chat's about 'residential renovation'.
Want to renovate? Start with the design!
I asked a friend recently if she thinks her and her partner will ever get married. She replied "We just bought a house together and that's a bigger commitment than marriage".  Yes, to buy a house is a huge decision that will impact your lifestyle (and the budget!) for many years to come.  And if you decide to renovate it (or build a brand new house instead), it can be quite overwhelming and stressful not knowing where to start, how much it will cost and who to engage on your project.
So, where do you start on YOUR own renovation project?
You might already have ideas about how you would like your new home to look and feel, but a good designer will help you to find the right solution for your particular property, whilst meeting your budget requirements. A designer will guide you through the design process and offer qualified advice.
So, why not go straight to the builder?
Even though you may have the best builder who delivers the most beautiful and superbly finished homes, if the house is not designed well, if it's not functional and doesn't support your lifestyle, the quality of build won't be enough.
Why choose Design 2B?
You want to make sure that your new home will be comfortable and enjoyable to live in. The design should add value to your property and create a space which will be uniquely yours – aesthetic, functional and practical. That's what we strive for at Design 2B!  We work closely with our clients; we take the time to listen to your ideas; to understand your needs and work with you every step of the way.
Our founder, Brett Burns is an experienced Building Designer as well as a qualified carpenter/joiner and worked in the building design industry for over 20 years. Having designed, worked on and built numerous projects in his career, Brett is able to inject this practical know-how into every job.
During your design process we focus on:
Creating practical and functional space
This is achieved by clearly identifying your family requirements and creating a space that is flexible enough to adapt to your family's changing needs.
Clever use of exciting attributes of the property
At the end of the day, if you pull down too many walls, move windows and plumbing, the cost of the renovation will increase. By working with the existing elements of the house as much as possible, this will give you a better chance of staying on top of the budget and free up your cash to spend on other more important areas.
Making the most of the natural aspects and orientation of the house
This is the most important part of design process. The right orientation of the house can reduce energy bills for cooling and heating. Ideally, you want your house to provide comfortable living in summer, as well as in winter. Cross ventilation, high ceilings, natural light – all will have a big impact on how it feels to live in your house. With these elements fully considered, that's when you can say the house has been designed well.
Producing a design that meets your budget, needs and expectations
One of the things our clients love the most about our designs is Brett's ability to interpret what they're after – even if they are not clear on it themselves.  Brett will be able to help you to clarify your design needs, guide you through the design process and offer practical advice that will enable you stay within budget.
Providing expert advice and knowledge 
A vital part of our service is ensuring we are up to speed with the constantly changing building codes and the myriad of new products on offer, whilst maintaining a firm grasp on industry best practices. With years of experience, knowledge and an expert understanding of building and planning regulations, we will be able to provide qualified advice and discuss potential design solutions with you.
Ultimately, designing a home that you will love
Brett's ability to listen and ask the right questions, helps him to gain a real understanding of your family needs and lifestyle, to make sure that you will be very happy with the final outcome and love your new home for years to come.
Want to start your renovation project with Design 2B?
Our first consultation is free of charge and can offer you initial ideas about the possible solutions for your property.
Call Brett on 07 3256 6485 and start your renovation project with Design 2B.
It's been great to chat with you!
Design 2B